How to Charge Your Electric Vehicle

---
Electric vehicles are becoming more and more popular around Pensacola and Navarre, and you may be thinking about making the switch to the EV lifestyle. If an electric vehicle has piqued your interest, you may have questions about EV charging. That's understandable, which is why the team at Step One Niceville has created this helpful guide. EV charging is as easy as plugging in your smartphone! Let's explore the basics below. 
Your Charging Options 
When it comes to EV charging around Destin, you have a couple of options for both home charging and public charging: 
STANDARD 120-VOLT PORTABLE CHARGE CORD.

This option allows your vehicle to charge anywhere, and it is perfect for overnight charging. All you have to do is plug your vehicle in anywhere that has a 3-prong outlet.

AVAILABLE 240-VOLT CHARGING UNIT.

This is your fastest option for at-home charging. This type of charging station will need to be installed by an electrician. 

AVAILABLE DC FAST CHARGING.

DC Fast Charging often delivers as much as 100 miles of range in about 30 minutes. You can find more and more of these public charging stations popping up in the area. 
The Cost of EV Charging 
One of the many benefits of an electric vehicle is that you no longer have to spend money on gasoline, which is welcome with rising gas prices across the country. You may be wondering how much it will cost to charge your electric vehicle. Simply follow the steps below to see how much you will save. 
First, take a look at your electric bill. To find the price you pay per kWh, divide the total cost by the number of kilowatt-hours you used. 

Most EVs get 3 to 4 miles per kWh. You will then divide the total miles you drive each month by 3 to get an estimate of how many kilowatt-hours you use on a monthly basis. 

Multiply that number by your cost per kWh. This will give you an idea of what you will be spending each month to charge your car. You can then compare this amount to what you typically spend on gasoline.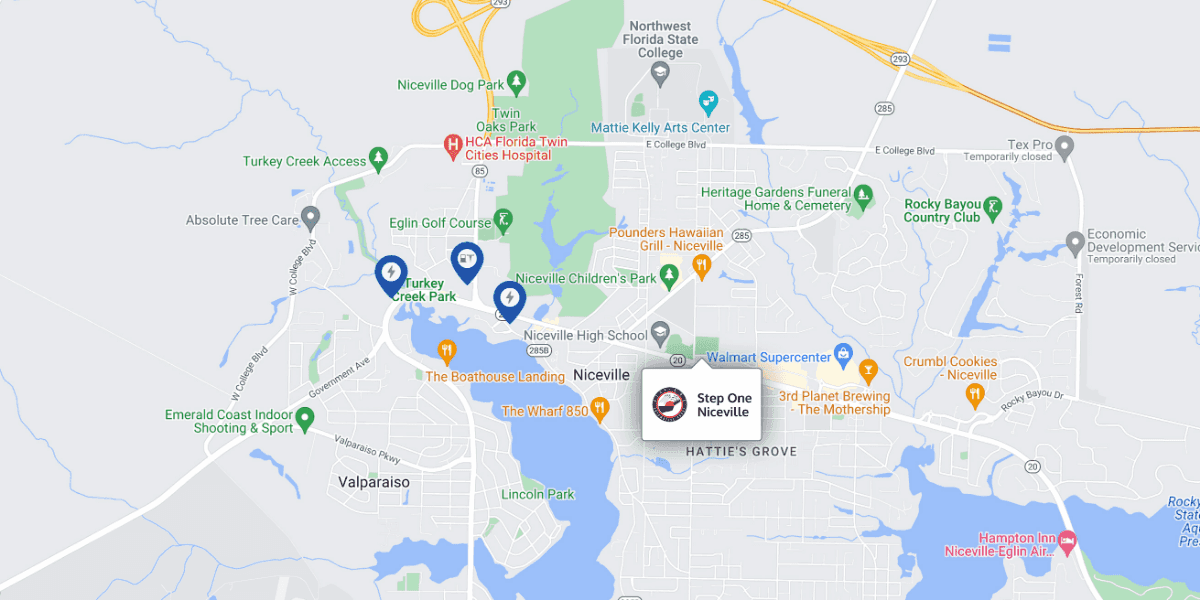 Contact Step One Niceville for More Information
If you still have questions about EV ownership or charging, reach out to the team at Step One Niceville for more information. We look forward to assisting you.